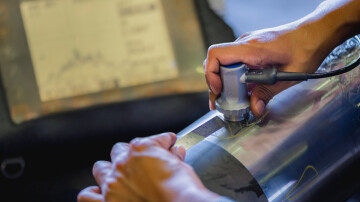 Ultrasonic Inspection
We perform ultrasonic immersion inspection. The inspection detects possible quality-degrading impurities and flaws inside the material. Impurities can cause components to crack when highly loaded.
To ensure the durability and the even quality of our products, we use both automated and manual ultrasonic testing devices. Automated devices have been integrated into a robot cell. Manual testing is performed with the latest technology: in ultrasonic immersion testing, the part is inspected with a transducer while submerged in water. The data is transferred to our electronic database. The database stores inspection data for several years.
Our device operators have gone through required training and obtained all necessary certificates. Our personnel develop our processes further by constantly monitoring our quality performance.