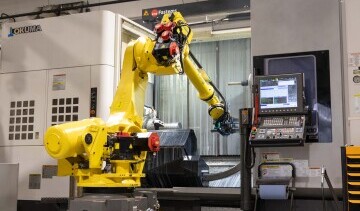 Turning - Drilling - Milling
Mapromec manufactures technically challenging metal components. Our main products include components for diesel engines in power plants and ships as well as other components that require extreme precision.
Our modern machinery includes about 40 multi-function machines that turn and mill middle-sized parts according to customers' drawings. In our multi-function machines and robot cells we are able to process parts weighing between 1 and 250 kilograms, with diameters of up to 400 mm and lengths of up to 1500 mm. Precision components are our specialty – we can reach an accuracy of thousandths with our multi-function machines.
We follow strict quality requirements in our production and only use high-quality materials. The materials we process are different steel grades. The best possible quality of the products is ensured by carefully finishing them by grinding, lapping and honing.
We have 30 years of practical experience in machining. Our experienced CNC operators have strong knowledge of materials and technology, acquired by operating different machines and processing different materials.